Ophthalmology Market Overview
The global ophthalmology market is growing due to an increasingly aging population and its subsequent impact on the eye care industry. Due to the rising number of individuals suffering from eye disorders, there will be an increasing demand for surgical, diagnostic, and vision care devices. This is the primary factor that will drive the growth of the global ophthalmology devices market, which is expected to grow by USD 13.03 billion during 2020-2024.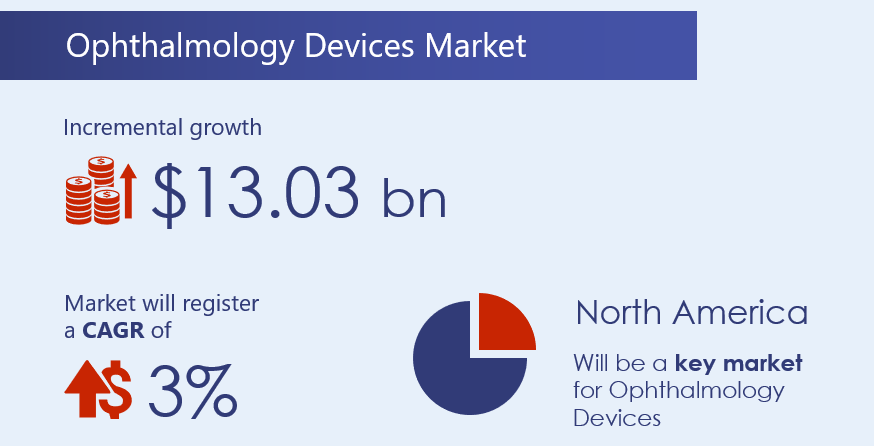 For more insights on the Ophthalmology Mаrkеt Trеndѕ, Growth Oрроrtunіtіеs, and the Growth Potential of sub-markets
Request for a FREE sample now!
Additionally, an increasing number of partnerships, a growing focus on promotional sales, and the increasing number of strategic M&A are the major trends expected to gain traction over the next few years. The high growth potential of this market is encouraging numerous large enterprises to increase their product range and expand their market presence by merging or acquiring other companies. In the past few years, the ophthalmic equipment market has witnessed a number of acquisitions since the presence of several large and small vendors have intensified the level of competition.
Latest Reports
Ophthalmology Market Insights
The advent of new innovative combination drugs will be one of the primary factors driving the growth of the glaucoma therapeutics market. To control the elevated intraocular pressure (IOP), healthcare physicians recommend a combination of two or more drugs for about 40%-45% of the glaucoma patients. According to clinical studies, the prescription of fixed combination therapies for glaucoma is more effective in lowering IOP than individual therapeutic agents.
The global contact lens market will grow more than USD 2.8 billion between 2017-2022, accelerating at a CAGR of 6% during the forecast period.
The emergence of new drug delivery techniques such as the adoption of various strategies to provide the drug with a carrier to hold the drug on the surface of the cornea for a longer duration benefits patients by reducing the frequency of doses. Thus, the emergence of new drug delivery methods will be one of the key trends that will gain traction in the glaucoma therapeutics market.
In 2017, the vision care segment dominated the ophthalmology devices market occupying almost 81% of the market share.
Ophthalmology Market Share and Segmentation
Ophthalmology Devices Market
Technavio's ophthalmology devices market research experts identify that a rise in the number of individuals suffering from eye disorders will increase demand for surgical, diagnostic, and vision care devices. Countries such as Canada, the US, and the UK, are providing options to reimburse incurred costs from various ocular surgeries and glaucoma screenings, which is further increasing the demand for ophthalmology devices.
View more ophthalmology devices market research insights: Download a free sample report now
Ophthalmic Therapeutics Market
Technavio's research coverage of the ophthalmic therapeutics market provides analysis on all of the common eye disorders including glaucoma, retinal diseases, conjunctivitis, refractive errors, color blindness, retinitis, and dry eye syndrome. The dry eye syndrome market is expected to grow steadily over the next few years due to changing lifestyles, consumption of specified medicines, and an increased rate of diseases. Some factors contributing to dry eye syndrome include autoimmune diseases, genetic factors, environmental conditions, and extended usage of contact lenses and prolonged computer usage.
Within our ophthalmology industry research, we provide deep insights into the ophthalmology market landscape and its segments. Our full ophthalmology market segmentation research offerings include:
Eye Care Market

Disorders

Glaucoma market
Macular degeneration market
Diabetic retinopathy market
Cataracts market
Pink eye market
Amblyopia market

Surgery

LASIK market
PRK market
LASEK market
RLE market
Ophthalmic Plastic Surgery Market
Our research of the ophthalmic devices industry provides comprehensive coverage of the following markets:
Ophthalmic Surgery Devices Market

Refractive error surgery devices market
Glaucoma surgery devices market
Cataract surgery devices market
Vitreoretinal surgery devices market
Ophthalmic Diagnostic Devices Market

Refractors market
Corneal topography systems market
Retinal ultrasound systems market
Fundus camera market
Ophthalmoscopes market
Slit lamp market
Tonometer market
Eye Care Devices Market

Contact lenses market
Eyeglasses market
We at Technavio, with our comprehensive understanding of the ophthalmology market, have been monitoring the latest industry trends and developments to create an in-depth portfolio of ophthalmology market reports. These reports help our clients identify opportunities within the market and develop effective strategies to optimize their market positions. Our ophthalmology market reports offer the following insights:
Ophthalmology market size
Ophthalmology market share
Ophthalmology market growth
Ophthalmology market forecast
Ophthalmology market trends
Ophthalmology industry statistics
Ophthalmology Market: Clinical Trials
Technavio keeps itself abreast of the latest developments in the disease pipeline by tracking clinical ophthalmology research trials across the globe. Cataracts, diabetic macular edema, and macular degeneration trials form a sizable proportion of the ongoing ophthalmology clinical trials.
Ophthalmic clinical trials cover compound types varying from clinical development and bioanalytical services. Our ophthalmic clinical trials analysis encompasses all phases of development starting from discovery projects to phase I, phase II, and phase III concluding with the registration of clinical trials. In addition, the ophthalmic clinical trials submissions are classified as biosimilars or new molecular entity.
Ophthalmology Market Research – Report Catalog
Eye care Market
Global Glaucoma Therapeutics Market
Global Age-Related Macular Degeneration Market
Eye Surgery Market
Global LASIK Surgery Market
Global Eye Rare Surgical Devices Market
Ophthalmic Devices Market
Global Ophthalmic Diagnostic Devices Market
Global Fundus Cameras Market
Eye Care Devices Market
Global Corrective Contact Lenses Market
Other Ophthalmology Market Research Reports
Global Blepharitis Treatment Market
Global Conjunctivitis Treatment Market
Global Corneal Ulcer Treatment Market