Pizza Market Size
The pizza market is currently in the middle of a steady growth period and is forecasted to grow steadily between 2021-2025. This growth in market size will be attributed to the growing demand for RTE products and the changes in consumer eating habits. The frozen pizza market size will also grow by over $3.3 billion during the forecast period 2020-2024. Frozen pizza is also one of the main segments contributing to the growth of the global frozen food market which will grow by over $64.69 billion between 2020-2024.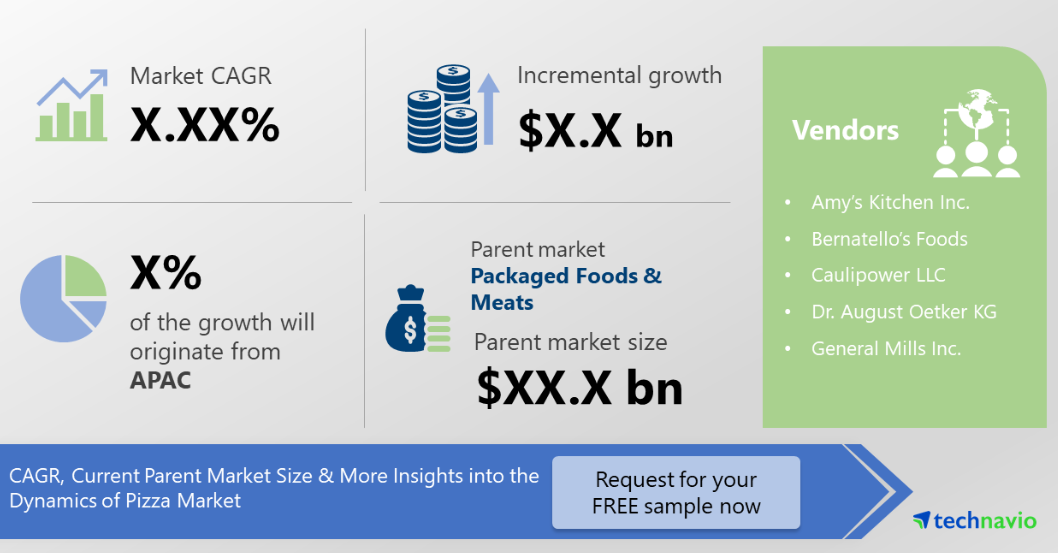 The demand from millennials is leading to an increased need for innovative and exotic flavored pizza with new ingredients and bold flavors. This demand is also positively impacting the market and is encouraging market players to offer more customizable options to acquire a larger market share.
Additionally, organizations like PETA have been working with pizza chains globally, to expand their meat-free and dairy-free alternatives in their menu. These partnerships are leading to rising demand for vegan pizza. The frozen pizza segment is one of the largest within the global pizza market and is expected to witness strong growth over the next few years owing to the growing need for convenient food preparation and a rise in disposable income.
Latest Reports
Pizza Market Insights
A rising focus on reducing cook time is leading to positive growth for the commercial wood-fired pizza ovens market as they reduce cooking time for end-users. This market will grow at a CAGR of 5% during 2017-2021.
The increase in demand for gluten-free pizzas is a key trend expected to gain traction in the frozen pizza market through 2021. DiGiorno already offers gluten-free thin crust frozen pizza which has non-GMO ingredients, while Amy's Kitchen also offers frozen pizzas with organic sweet rice flour, organic potatoes, and organic tapioca flour.
The introduction of organic ingredients, the rising usage of social media, and preferences of consumers for online ordering some of the key emerging trends expected to contribute to the growth of the pizza market over the next few years.
Pizza Market Growth Analysis
The global pizza market is being driven by the four main factors:
Growing innovation and customization in pizza
Increasing demand for gluten-free pizza
Burgeoning marketing initiatives
The rising popularity of fast-casual pizza
The fast-casual pizza restaurant is a rapidly growing concept which combines quick-service restaurants and casual dining restaurants. Consumers have shown that they are willing to pay more for the healthy, fresh, and low-calorie pizza served at fast-casual restaurants, which is encouraging market players to form strategic partnerships to capture a larger market share. For example, Chipotle Mexican Grill partnered with restaurateurs Bobby Stuckey and Lachlan Mackinnon-Patterson to launch Pizzeria Locale, a fast-casual pizza concept which cooks pizzas to perfection in around 2 minutes.
This increase in health-conscious consumers is also leading to the popularity of gluten-free pizzas. Approximately 1% of the population in the United States has celiac disease but there is a growing demand from consumers that prefer gluten-free pizza strictly as a healthier alternative. In countries such as the UK, France, Canada, and the US, there is has already been a significant rise in pizza establishments that offer gluten-free pizza in their menu.
Pizza Market Share and Segmentation
Within our pizza industry research, we provide deep insights into the market landscape, its segments, and their market share. Our research experts segment this market by pizza types, pizza varieties, pizza equipment, pizza crust styles, and pizza foodservice operators.
In terms of foodservice operators, the pizza chain operators segment accounts for nearly two-thirds of the market share, holding a large lead over independent operators. Chain restaurants tend to have highly effective marketing initiatives and attractive promotional offers to help them increase their market share. Some of the major players in the chain pizza restaurants segment include Domino's, Pizza Hut, and Little Caesars.
Our pizza market segmentation research offerings include:
Pizza Market by Type

Frozen Pizza Market

Regular frozen pizza market
Premium frozen pizza market
Gourmet frozen pizza market

Fried pizza market
Sliced pizza market
Pizza Market by Variety

Neapolitan pizza market

Pizza marinara market
Pizza margherita market
Pizza margherita extra market

Chicago pizza market
New York style pizza market
Sicilian pizza market
Greek pizza market
Gourmet pizza market
Stromboli pizza market
Pizza Market by Crust Style

Thin crust pizza market
Thick crust pizza market
Stuffed crust pizza market
Pizza Equipment Market

Commercial wood-fired pizza ovens market

Commercial black wood-fired pizza ovens market
Commercial white wood-fired pizza ovens market
Pizza Market by Foodservice Operator

Pizza market chain operators
Pizza market Independent operators
We at Technavio, with our comprehensive understanding of the pizza market, have been monitoring the latest pizza industry trends and developments to create an in-depth portfolio of market research reports. These reports help our clients identify opportunities within the market and develop effective strategies to optimize their market positions. Our pizza market reports offer the following insights:
Pizza industry overview
Pizza industry statistics
Pizza market share
Pizza market size
Pizza market forecast
Pizza market growth
Pizza market trends
Pizza market vendor landscape
Pizza Market Research: Report Catalog