Ticket Market Overview
The size of the global ticket market is expected to increase by USD 37.86 billion between 2020-2024, accelerating at a CAGR of 5% during the forecast period. This growth in market size will be attributed to the growing popularity of digital movie screens, increasing interest in sports events, and rising disposable income. Our latest ticket market analysis highlights that increased interest in sporting events such as the Olympic games, FIFA World Cup, Super Bowl, ICC Cricket World Cup, and IPL, has resulted in an increase for overall ticket sales. Sports events such as the UEFA Champions League, the Rugby World Cup, Formula 1, and Wimbledon are followed by millions of people and are also contributing to the global increase in ticket sales.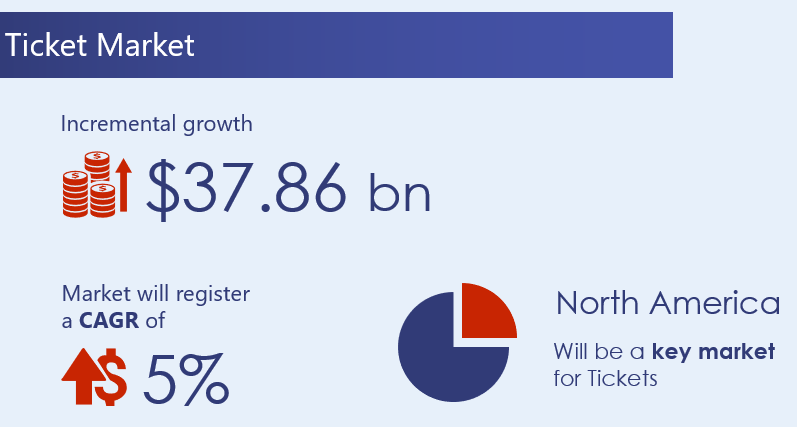 For insights on the Ticket Mаrkеt Trеndѕ, Growth Oрроrtunіtіеs, and the Growth Potential of sub-markets
Request for a FREE sample now!
Secondary tickets are one of the largest segments within the global ticket market. Secondary tickets are also referred to as ticket resale and are the act of reselling tickets on platforms such as StubHub or TickPick for admission to any event. Between 2017-2022, the global secondary ticket market is expected to grow at a CAGR of 13% during the forecast period, owing to the growth in sporting events and live concerts. Additionally, the rising adoption of mobile devices is encouraging market participants to develop mobile applications that offer ease of access and use to customers.
Latest Reports
Ticket Market Insights
The increased utilization of mobile apps will be one of the major factors driving the growth of the secondary tickets market. With the global mobile apps market growing extensively, many service providers are developing their mobile applications to offer the ease of access and use to the customers.
The rising popularity of Hollywood movies and the growing popularity of analyzing consumer behavior through mobile ticketing applications are some of the emerging trends expected to impact the global ticket market through 2022.
The popularity of digital movie screens is growing, as these screens provide viewers with a high-quality audio-visual experience. Digital movie screens enrich the experience of watching 3D movies and movies with graphic-rich content, which will aid ticket market growth over the next four years.
View more ticket market research insights: Download a free sample report now
Ticket Market Share and Segmentation
Within our ticket market research, we provide deep insights into the ticket market landscape, its segments, and their market share. Our research experts segment the ticket market by source, platform, and type of event.
By event type, the sporting event segment accounts for the largest market share holding a lead over concerts, movies, and performing arts events. The growth of this segment can be attributed to a rise in the number of sports viewers and the growth of the sports betting market.
Our ticket market segmentation research offerings include:
Ticket Market by Platform

Online ticket market

Desktop ticket market
Mobile ticket market

Offline ticket market
Ticket Market by Event

Live events/Concerts ticket market
Theatres ticket market
Movies ticket market
Performing arts event ticket market
We at Technavio, with our comprehensive understanding of the ticket market, have been monitoring the latest industry trends and developments to create an in-depth portfolio market research reports. These reports help our clients identify opportunities within the market and develop effective strategies to optimize their market positions. Our ticket market analysis reports offer the following insights:
Ticket market share
Ticket market size
Ticket market size in us
Ticket market forecast
Ticket market growth
Ticket market vendor landscape
Ticket industry statistics
Ticket Market Research: Report Catalog